"This commission, drafted, authorized, and consigned by Deleon Alliance Alien Committee and member state legislative bodies, hereby grants Precision Martial Applications, LLC operating rights in the Stellar League Designated Unaffiliated System UaSy1023, hereto referred as the Havoughn System, and all stellar bodies within the gravity well of the Havoughn star, against all enemies currently at war with the Deleon Alliance, and under strategic command of the Deleon Alliance High Command."

"Should be easy money... probably won't be." - Commander Mendez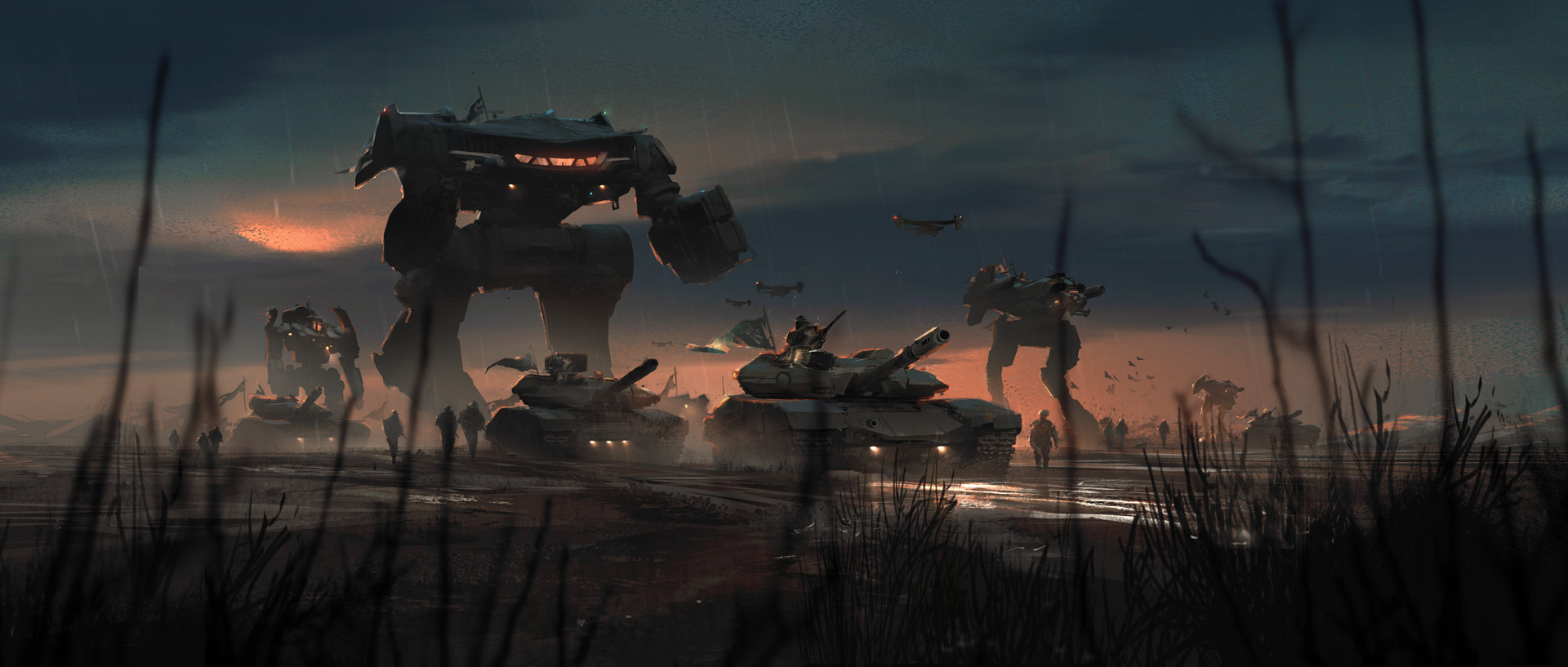 Welcome to Mendez's Marauders, a premier mercenary company that hires out to the highest bidder. Or at least that's the selling point. The Marauders are small fish compared to some companies, but they've got that fighting spirit and teeth to match that allow them to punch above their weight class. Traveling across the cosmos in the ICV Starfield, they provide security and firepower to places most couldn't be bothered to give a shit about- as long as they've got the credit to pay for it.
Currently they're en route to the planet HS-RCB-2 (colloquially called Vokiod), a planet in the Havoughn system inhabited by a pre-stellar race of anthropoids known as the Vokoidian or Veekee. Hired by one of the planetary factions, they've been contracted to provide service as a defensive asset in an ongoing planet wide war. Armed with technology centuries ahead of the local populace, their mission should be an easy paycheck for the Marauders. Should be.
Mechs, Mercs, & Murderers: The Game
M³ is a play-by-post forum role play with tabletop lite rules added in to bring a layer of depth and assist in arbitrating the rp process.
Results will be determined by dice roll before a post and then described by the rp'er in post. The pre-post phase will be on the VTT lite website
Owlbear Rodeo
and will include a battle map with tokens to help players plan their posts.
M³ Ruleset

Posts (or Actions & Maneuvers during In-Mission portions of the rp) are resolved by rolling a number of d6s against a Result Threshold (RT) determined by the Combat Ratings (CoRat) of enemy forces or the at hand situation. The number of dice rolled against any challenge is determined by your mechs stats, any assistance other players or NPCs render, and support assets as part of in-character missions.

Success, Partial Successes, & Failures - How successful an action is is determined by a Result Threshold set by the combat rating of the targeted enemy (listed in the RT table). There are three states an action can result in; success, partial success, or failure.

A success is a complete accomplishment of the player's stated goals and described by the player how they see fit. A partial success results in the achievement of the player's stated goals at a cost and described by the GM, or as a partial achievement and described by the players.

For example; a player may state their objective is to destroy an enemy mech by targeting it's cockpit. On a partial success they may land the killing blow but because of their focus on aiming the shot the GM rules they failed to move in time and another enemy lands a hit on them. Alternatively they may choose to describe how their shot missed the cockpit, but instead hitting it's arm and blowing it off in the process, potentially leading to a reduced Offensive CoRat.

On a failure the player's stated goal is not achieved and often results in immediate retaliation by the targeted enemy or narrative complication. However they gain a "fail forward" die. This die can be added to any action or maneuver roll they wish, including the defensive roll against the counter-attack. Additionally you can always elect to fail a roll (you still gain a Fail Forward Die)

Actions, Maneuvers, & Damage Penalties

During your post you can take any number of actions divided by the number of Stat dice available to you. For example if you have 3 points in Offense, you can spend all three dice on one offensive action (such as taking on an enemy mech with your primary weapons) or split them up into smaller but easier to achieve actions (like destroying light armored fighting vehicles with secondary weapon systems).

Additionally some actions or maneuvers can be bolstered with Stat die from other stats. For example a Pilot Suite die can be added to any action or maneuver, as this can represent your character's skill as a pilot and mastery over their mech. In other cases it is contextual, such as adding a mobility die to your defense roll because you're dodging the attack or trying to sprint to cover. When you choose what dice to spend and what actions to take remember; Context Matters.

Offensive Actions - Anything your character does in order to incapacitate, destroy, or neutralize an enemy target, neutral structure, or even terrain feature. This roll is compared to the defense or mobility CoRat of the NPC enemy, whichever is highest.

Defensive Actions - Defensive actions include both passive and active attempts at avoiding, mitigating, or fully negating attacks and damage. They can also be both proactive or reactive, and can be used again outside of your post. Unlike other Stat Dice, on a failure you lose a dice until after the mission and your mech is repaired. If you lose all your Defense Die your mech is destroyed.

Maneuvers - Maneuvers are more than just moving your mech from point A to point B. They include actions such as navigating difficult or unstable terrain, concealing your mech behind terrain, attempting to avoid detection while flanking or losing a pursuer, or avoiding damage outright.

On open to slightly unstable terrain your mech doesn't need to roll to move, and it can move a number of spaces equal to twice your mobility stat dice.

Pilot Suite - Your Pilot Suite represents the combined prowess of your character and the electronic tools available to them. Usually complimenting a different action, your Pilot Suite does have uses of its own. Attempting to detect enemies, get a read on and understand their capabilities, and assisting your allies targeting through transmitting telemetry are all things your Suite can do, among other things.

You can attempt to learn what a target's CoRats are by scanning a spotted target. You learn what the target's CoRats are equal to the total of your PS roll, starting with the highest and working to lowest. If two CoRats are tied then the GM determines which one you learn.

For example: You spend two PS dice and get a 8. The GM informs you that the target has a Offensive rating of 4 and a mobility of 3,

If your character must abandon their mech they will use a single PS Die to determine if they are safely rescued (success), must flee and be rescued later (partial success), or are captured (failure).

Assist - Along with the other actions, you can also assist your allies in battle. You can forgo rolling a dice during your post to give it to another player. This could be as simple as giving an Offense Die to someone as you provide suppressing fire or as complex as giving everyone a Pilot Suite die as you watch enemy movements and radio in positions.

Damage Penalties - When your mech fails a Defense roll you can forgo losing a Defense Die in place of losing an Offensive or Mobility stat dice. If you run out of Offense die you can no longer take offensive actions, even while being assisted by another player. Unlike Offense die, an ally can always assist with their mobility die, allowing you to limp along.

In Between Missions - In between missions the rp will progress like a normal play-by-post forum rp. If players wish to resolve character actions via dice rolls they can roll 2d6 against RT 2 or if the action is against another player character rolling contested result.

Combat Rating - Unless provided with intel before a mission, you will not know the CoRat of the enemy vehicles. Linked here is the table showing what results you need based on the enemy's rating.
Character Creation
You serve as one of the mech pilots aboard the ICV Starfield. Either subcontracted out or recently hired on, you provide the power necessary for the Marauders to make a proper name for themselves.
M³ takes place in a galaxy filled with sprawling empires, powerful nations, and other menacing political entities; where war ravages countless worlds but built on the bones of the past is a hope for the future. This the Scatterverse.
You're free to play any species from any world of your choosing. There are dozens of already established species, of which a few examples are listed in the Codex section, but you are free to come up with your own.
(Image)
Name + Callsign:
Species:
Physical Description:
Personality:
Bio:
[table style="border:2px solid black;width:100%;text-align:left;"][tbody][tr][td style="height:30px;width:100%;border-width:3px;border-style:solid;border-color:dark grey;background-color:rgb(45, 45, 45);color:rgb(220, 220, 220);" class="post_cell"]
[div align="center"][img src="put image url here" alt=" "][/div]

[b]Name + Callsign:[/b]

[b]Species:[/b]

[b]Physical Description:[/b]

[b]Personality:[/b]

[b]Bio:[/b]
[/td][/tr][/tbody][/table]
Mech Creation
Your mech is yours; bought before joining the Marauders or through a lease-to-own plan from the Marauder's themselves. It's yours to customize and outfit.
At the start of the rp your mech will be in line with others in terms of capabilities. Everyone starts with a point in the Offensive, Defensive, and Mobility stat. You have an additional two points to spend how you see fit.
There are no hard preset weapons or technologies connected to your stats. Instead your stats are a comparison between your mech and others, as well as the CoRat level they can reasonably succeed against.
For example, two mechs with only one point in Offense are the same in offensive capabilities, even though one might be armed with a chain-gun while the other uses multiple arm mounted machine-guns. Both are able to deal with light AFVs (CoRat 1), but both are incapable of taking on medium AFVs (CoRat 2) without either being skilled pilots or having assistance.
At the end of every mission players will receive an upgrade die. They can put this die into any stat of their choice, which represents either buying new equipment for their mechs or growing as a skilled pilot in the case of increasing their Pilot Suite score.



(Image)



Designation: This is whatever you call your mech. It can be as simple as a model designation or as meaningful as an earned nickname.
Physical Description: Describe any details of your mech that you couldn't capture in the image reference for your mech, or if you have no image describe your mech.
Capability Rating & Description: These are the game statistics for your mech. Assign your stats and then describe their capabilities.

• Pilot Suite: The PS stat represents the instruments available to your pilot and their skill level.
• Offense: Offensive stat represents the combined offensive capabilities of your mech, such as weapon systems, slaved combat drones, or mounted offensive electronic warfare suites.
• Defense: Defense represents the defensive capabilities of your mech. Partially a reflection of how much damage your mech can take; it is a combination of armor, total structural integrity, and active and passive defensive systems
• Mobility: Mobility represents how fast your mech is or how easy it is for your mech to navigate terrain.

[table style="border:2px solid black;width:100%;text-align:left;"][tbody][tr][td style="height:30px;width:100%;border-width:3px;border-style:solid;border-color:dark grey;background-color:rgb(45, 45, 45);color:rgb(220, 220, 220);" class="post_cell"]
[div align="center"][img src="put image url here" alt=" "][/div]

[b]Designation:[/b]
[b]Physical Description:[/b]
[b]Capability Rating & Description:[/b]

[b]• Pilot Suite:[/b]
[b]• Offense:[/b]
[b]• Defense:[/b]
[b]• Mobility:[/b]
[/td][/tr][/tbody][/table]

Example Character

Name + Callsign: Janya Cutter - "Queen Bee"

Species: Terran

Physical Description Janya is on the smaller side and hardly what one would call "fighting fit", though she is agile and makes up for her lack of strength in cunning. Her bright red hair, which she usually keeps in a bun, also tends to stick out. She wears a pair of glasses, opting for the flexiblity of carrying augmentation displays in them versus having corrective procedures and cybernetic implants.

Personality:A perky individual, Janya always seems to look on the bright side of things and can't help but flash a bright beaming smile during conversations. She makes friends easily, even if initial impressions leave them with the opinion she can be annoying, and sticks by those she care about. Despite this outwardly cheerful disposition she does struggle with buried anxiety and nervousness, along with recent trauma she has been dealing with.

Bio: Janya Cutter is not a soldier. She's hardly a pilot either. If you ask her, she'll tell you she's an Auto-Drone Tech. Her service in the Consortium's post-war security forces was tending to and controlling autonomous drone fleets far away during policing actions against insurgent Federation hold outs. While this kept her away from the worst of the post-war action, it didn't shield completely. A surprise attack against the base she was stationed at saw several of her friends dead, and herself fleeing with the rest of the non-combat staff. Eventually she returned to service, but opted to join one of the sanctioned paramilitary groups employed by the Consortium- which is when she joined Mendez's Marauders. While no longer commanding the large drone fleets, she does oversee the Starfield's drone network as well as remotely control/pilot 3 light mechs.


Designation: "Huey" "Dewey" and "Louie"
Physical Description: The LCM-44d is a small, unmanned support mech slaved to a central AI, which in turn is controlled by a human technicain. They work in "packs" of three to four in support of a larger mech or supporting an infantry force. They can individually be piloted by their technician directly, if need be.
Capability Rating & Description:

• Pilot Suite: [1] - 44d's are equipped with high gain sensors and communication gear, aiding in supporting attached unit fire missions.
• Offense: [1] - Armed with light fire support weapons, 44g's can take on infantry and lightly armored vehicles.
• Defense: [1] - Defense capabilities are minimal due to their autonomous nature. They're armored against small arms and low energy kinetic drivers.
• Mobility: [2] - Small and nimble with surprisingly strong manipulators, 44d's are excellent at maneuvering through rough terrain and can be shut down nearly completely to aid in concealing their position. They can keep up with most wheeled combat vehicles.

conq
edited
Apr 23, 2021 18:48:42 GMT